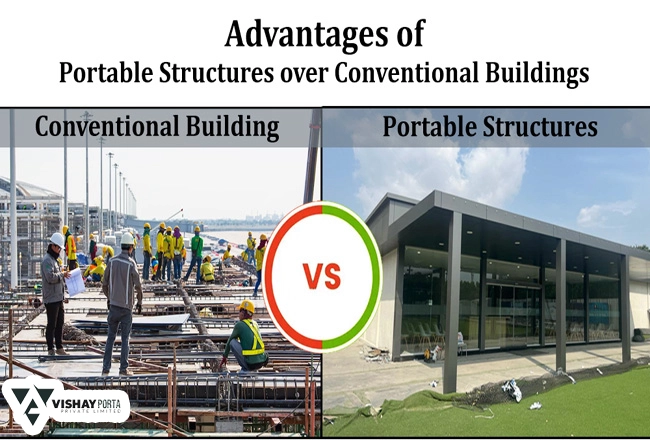 In the realm of construction and architecture, innovation is a driving force that continually shapes the way we design and build spaces. One such innovation that has gained significant traction in recent years is the concept of portable structures. These versatile and adaptable constructions are challenging the norms of traditional buildings and offering a host of advantages that are hard to ignore. In this blog, we'll delve into why portable structures are emerging as a superior alternative to normal structures.
1. Flexibility and Mobility:
Portable structures, also known as modular buildings, are designed with flexibility in mind. Unlike conventional structures, which are typically fixed in place, portable structures can be easily relocated and reconfigured. This feature makes them ideal for situations where mobility is essential, such as construction sites, disaster relief efforts, and temporary events. Their modular nature allows for easy expansion or downsizing according to changing needs, providing a level of adaptability that traditional buildings cannot match.
2. Rapid Construction:
Traditional construction can be a time-consuming process, often plagued by weather delays, labour shortages, and other unforeseen obstacles. Portable structures, on the other hand, are manufactured off-site in controlled environments. This significantly reduces construction time and enables parallel processing—preparing the site while the modules are being built. As a result, portable structures are an efficient solution for projects that require quick deployment without compromising on quality.
3. Cost-Effectiveness:
Portable structures often come with cost advantages over conventional buildings. While the upfront costs might be comparable, the overall expenses tend to be lower due to reduced construction time, less material waste, and more efficient use of resources. Additionally, their adaptability can extend their lifespan, as they can be repurposed for different needs over time.
4. Reduced Environmental Impact:
Sustainability is a critical concern in today's construction industry. Portable structures inherently produce less waste during construction, as the manufacturing process is tightly controlled, and excess materials are minimized. Moreover, the ability to disassemble and relocate these structures means that their environmental impact is significantly lower. This aligns well with the growing demand for eco-friendly construction practices.
5. Innovative Design and Customization:
Portable structures challenge the notion that pre-fabricated buildings are generic and lack aesthetic appeal. Modern design and manufacturing techniques have evolved to offer a wide range of customization options. From contemporary finishes to advanced technologies, portable structures can be tailored to suit various architectural styles and functional requirements.
6. Quality Assurance:
The controlled environment in which portable structures are manufactured ensures a higher level of quality control. The building components are subjected to rigorous testing and inspections, reducing the likelihood of defects that can be common in traditional construction due to various external factors.
7. Temporary and Permanent Applications:
While portable structures are often associated with temporary solutions, they are equally suitable for permanent applications. Their durability and flexibility make them an excellent choice for businesses, educational institutions, and even residential projects. Many portable structures are designed to meet building codes and regulations, ensuring that they are safe and compliant.
In an era where speed, flexibility, and sustainability are paramount, portable structures offer a compelling alternative to conventional buildings. Their ability to adapt, reduce construction time, lower costs, and minimize environmental impact make them a promising choice for a wide range of applications. As technology continues to advance, it's likely that portable structures will become an even more integral part of the future of construction, redefining the way we approach design, architecture, and urban planning.