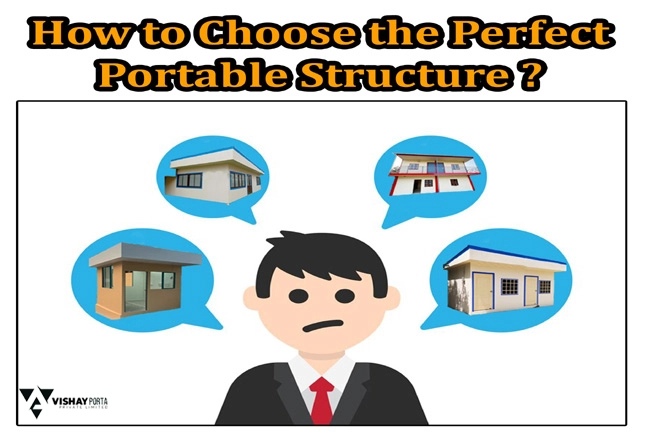 In the rapidly evolving landscape of modern work, flexibility and adaptability have become paramount. Portable structures have emerged as a revolutionary solution for businesses seeking functional office spaces that can be set up quickly and easily. Whether you're a start-up looking for a cost-effective office setup or a well-established company in need of extra workspace, selecting the right portable structure requires careful consideration. This guide aims to walk you through the key factors to consider when choosing the best portable structure for your office or workplace.
1. Purpose and Requirements
Before delving into the specifics of portable structures, it's essential to define the purpose of your workspace and outline your requirements. Are you looking for a temporary office during a renovation? Do you need a pop-up shop for a short-term event? Or are you in search of a semi-permanent workspace solution? Clearly understanding your purpose and requirements will guide your decision-making process.
2. Size and Space
The size of the portable structure is a critical factor. Assess the number of employees who will work in the space, the equipment that needs to be accommodated, and any future expansion possibilities. Ensure the structure offers ample room for comfort and productivity without feeling cramped.
3. Mobility and Portability
The primary advantage of a portable structure is its mobility. Consider how often you anticipate relocating the structure and whether it needs to be easily transported. Look for options with efficient dismantling and assembly processes. Features like modular designs and lightweight materials can greatly simplify the relocation process.
4. Durability and Weather Resistance
The durability of the portable structure is vital, especially if it will be exposed to various weather conditions. Opt for structures made from high-quality materials that can withstand elements such as rain, wind, and even extreme temperatures. Robust materials will ensure the longevity of your investment.
5. Customizability
Your workspace should reflect your brand identity and cater to your specific needs. Look for portable structures that offer customization options, such as adjustable layouts, colour schemes, and branding opportunities. A tailored workspace can enhance employee morale and make a lasting impression on clients.
6. Amenities and Utilities
Consider the amenities and utilities required to operate effectively. This includes electrical systems, heating, ventilation, air conditioning, and plumbing facilities. Depending on the nature of your work, you might need to integrate technology infrastructure as well.
7. Compliance with Regulations
Portable structures are subject to local regulations and building codes. Before finalizing your choice, ensure that the structure complies with all relevant regulations. This might include zoning requirements, safety standards, and accessibility guidelines.
8.Cost Analysis
While portable structures can be cost-effective compared to traditional construction, it's essential to assess the overall cost. Consider not only the initial purchase or rental price but also factors like maintenance, utility expenses, and any customization costs.
9. Reputation of the Supplier
Choosing a reputable supplier is crucial to ensure the quality and reliability of your portable structure. Look for suppliers with a track record of delivering durable, well-designed structures and providing excellent customer service.
10. Future Scalability
As your business grows, your workspace needs might change. Opt for a portable structure that allows for easy scalability. This could involve adding modular units or expanding the existing structure to accommodate your evolving needs.
In conclusion, selecting the right portable structure for your office or workplace involves a careful assessment of your requirements, considerations of mobility, durability, customization, compliance, and cost. By evaluating these factors and working with a trusted supplier, you can create a functional and adaptable workspace that aligns with your business goals. Embrace the flexibility of modern solutions and watch your workplace evolve with ease.