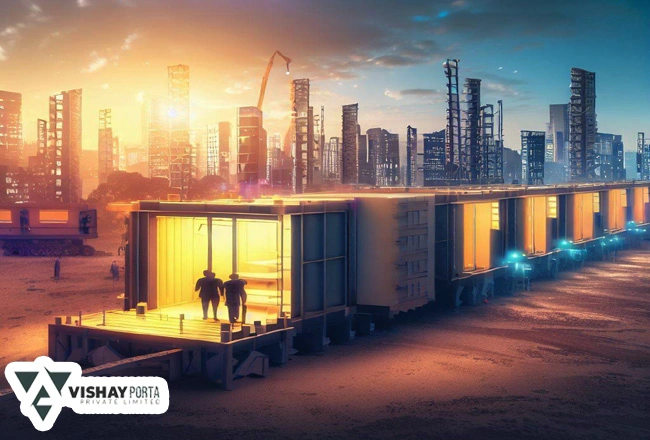 In the ever-evolving landscape of the modern corporate world, adaptability and efficiency have become paramount. As businesses strive to stay competitive and navigate through changing market dynamics, the concept of portable structures is emerging as a transformative solution. These dynamic and versatile edifices have the potential to reshape the way we perceive and engage with office spaces, offering a multitude of benefits that align perfectly with the needs of today's businesses. In this blog post, we will explore how portable structures are poised to become the future of the modern corporate world.
Adaptive Agility in Workspace Design:
One of the defining features of portable structures is their adaptability. These structures are designed to be flexible and easily modifiable, enabling businesses to swiftly adjust to changing requirements. Whether it's scaling up to accommodate a growing team or downsizing to align with shifting priorities, portable structures offer a level of agility that traditional office spaces struggle to match. The ability to customize the layout and configuration of these structures ensures that the workspace can be tailored to meet the unique needs of the business, fostering an environment that promotes creativity, collaboration, and productivity.
Cost-Efficiency and Sustainability:
Traditional brick-and-mortar office spaces come with substantial overhead costs, from construction to maintenance. Portable structures, on the other hand, offer a cost-effective alternative. These structures are often prefabricated, significantly reducing construction time and associated expenses. Additionally, their modular nature allows for easy expansion without the need for extensive construction work. This inherent cost-efficiency is particularly appealing for start-ups and small to medium-sized businesses looking to allocate resources judiciously.
Moreover, the sustainability factor cannot be overlooked. Portable structures can be designed with eco-friendly materials and energy-efficient systems, aligning with the growing corporate emphasis on environmental responsibility. By minimizing energy consumption and reducing waste, businesses can demonstrate their commitment to sustainable practices while also benefiting from long-term cost savings.
Mobility and Remote Work Integration:
The global shift towards remote work has redefined the traditional office setup. Portable structures are uniquely positioned to cater to the needs of a remote workforce. These structures can be placed strategically in various locations, enabling companies to establish satellite offices closer to where employees reside. This not only reduces commuting times but also enhances work-life balance and reduces the strain on urban infrastructure.
Moreover, portable structures can be equipped with advanced technology infrastructure to facilitate seamless remote work integration. High-speed internet connectivity, video conferencing facilities, and smart office solutions can transform these structures into efficient hubs for virtual collaboration, ensuring that remote teams stay connected and productive.
Temporary and Event-Specific Spaces:
Businesses frequently require temporary spaces for various purposes, such as workshops, training sessions, or product launches. Portable structures offer a versatile solution for such scenarios. These structures can be swiftly erected and dismantled, providing businesses with the flexibility to create event-specific spaces without the commitment of long-term leases or construction projects. This adaptability makes portable structures an ideal choice for businesses that thrive on innovation and adapt to the ever-changing demands of their industry.
The Collaborative Future:
The modern corporate world thrives on collaboration, innovation, and adaptability. Portable structures embody these very principles, offering an innovative approach to workspace design that aligns seamlessly with the dynamic nature of businesses today. As companies seek to optimize their operations, reduce costs, and embrace sustainability, the portable structure trend is poised to reshape the way we envision office spaces.
In conclusion, portable structures are more than just a trend; they represent a paradigm shift in how businesses approach workspace design. Their adaptability, cost-efficiency, mobility, and sustainability aspects position them as the perfect match for the evolving needs of the modern corporate world. As more businesses recognize the potential of these structures to foster creativity, collaboration, and growth, we can expect to see an increasing number of portable structures shaping the corporate landscape of the future.