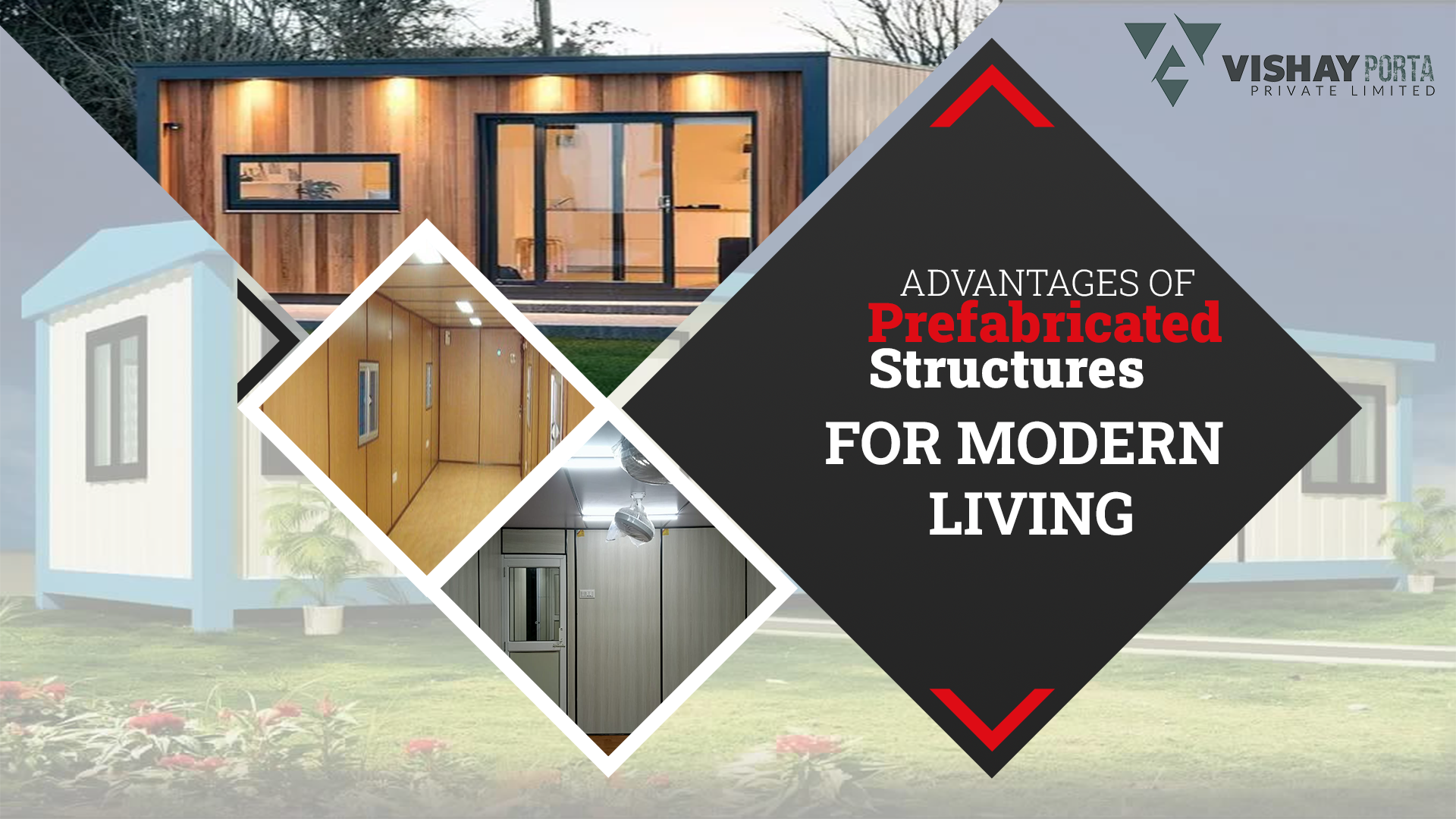 Introduction:
In recent years, prefab structures have gained immense popularity in the construction industry. These innovative buildings offer numerous advantages, from cost-effectiveness to sustainability and rapid construction timelines. At Vishay Porta Cabin, we specialize in providing high-quality prefab structures that cater to various needs and preferences.
Today In this article, we will explore the benefits of prefab structures and why they are becoming the sustainable for modern living.

1. Speedy Construction:
One of the most significant advantages of prefab structures is the speed at which they can be built. Traditional construction methods can be time-consuming, often taking months or even years to complete. In comparison to prefab structures, they are manufactured in a controlled factory environment, significantly reducing construction time. Once the components are ready, assembly on-site is quick and efficient, saving both time and money.

2. Cost-Effective:
Prefab structures are cost-effective in several ways. The streamlined manufacturing process reduces labour costs, and the controlled environment minimizes material waste. also, the shorter construction period means lower financing costs for projects. This cost efficiency makes prefab structures an excellent choice for those working within budget constraints.

3. Sustainability:
Environmental concerns are a top priority in today's world, and prefab structures align with sustainable building practices. These structures often incorporate eco-friendly materials, and the precision manufacturing process reduces waste. Moreover, the energy efficiency of prefab buildings can result in reduced long-term operational costs and a smaller carbon footprint.

4. Design Flexibility:
Prefab structures are not limited to cookie-cutter designs. In fact, they offer a high degree of design flexibility. Customization options are vast, allowing you to create a structure that suits your specific needs and aesthetic preferences. Whether it's a cozy home, a functional office, or an innovative retail space, prefab structures can be tailored to your vision.

5. Durability and Quality:
Prefab structures are built to last. Factory manufacturing ensures a high level of quality control, and the materials used are often of superior quality. These structures are engineered to withstand various environmental conditions, making them a reliable choice in different regions and climates.

6. Versatility:
Prefab structures are incredibly versatile and can be used for various purposes. From residential homes to commercial buildings, schools, healthcare facilities, and more, the applications are endless. The adaptability of prefab structures makes them suitable for diverse projects.
Conclusion: In a world where speed, sustainability, and cost-efficiency are essential considerations in construction, prefab structures have emerged as a compelling solution. At Vishay Porta Cabin, we take pride in delivering top-notch prefab structures that meet the evolving needs of our clients. Whether you're planning a new home, office space, or any other structure, consider the many advantages of prefab construction. It's a choice that not only saves you time and money but also contributes to a greener, more sustainable future.

Explore our wide range of prefab structure options at https://www.vishayportacabin.com/categories/prefab-structure/.